[ad_1]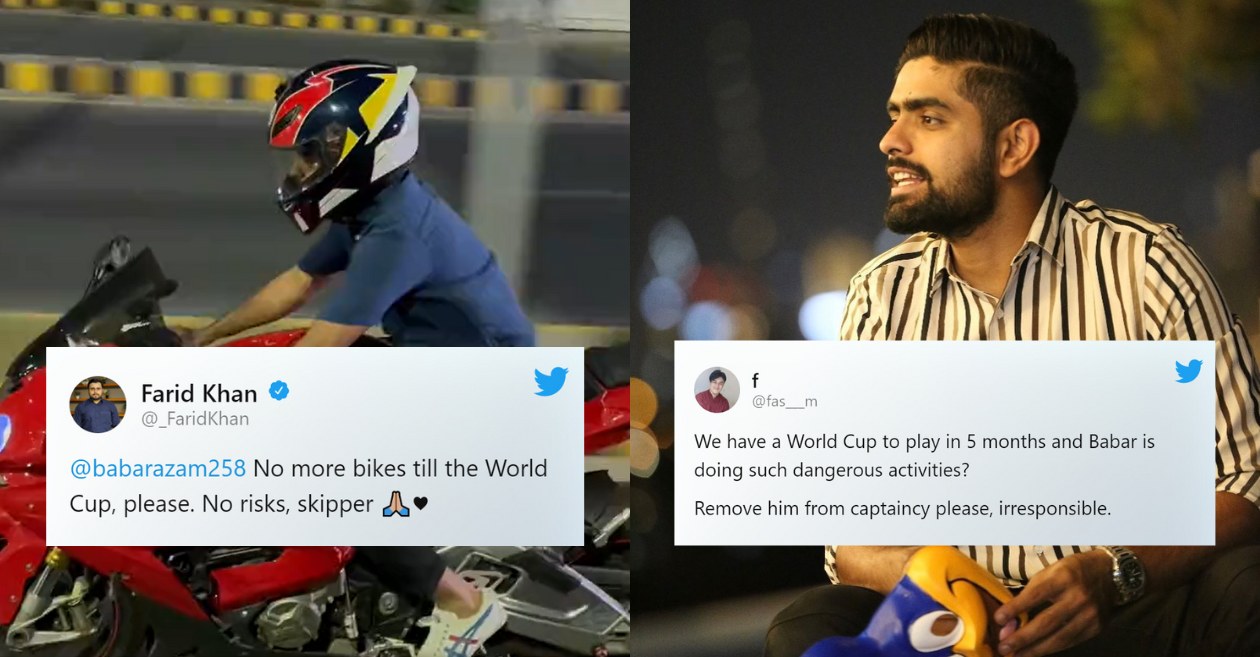 Pakistan skipper Babar Azam is enjoying his off time after a hectic home season of cricket that included Pakistan Super League (PSL) 2023 and a two-format series against New Zealand. Notably, Babar-led Men in Green emerged victorious in both T20 International (T20I) and One Day Interrnational (ODI) series against the Blackcaps, which concluded on May 7.
After a convincing victory, Babar now seems to be having fun as he shared a video of himself riding a sports bike on the highway. Although Babar is seen wearing a helmet in the clip, the fans of the Pakistani cricketer still expressed their concerns for Babar's safety. They urged him to refrain from any risky activity ahead of the Asia Cup 2023 and ODI World Cup scheduled in India later this year .
"Ready, set, GO!," Babar captioned the video.
Ready, set, GO! 🏍️ pic.twitter.com/BvwwiFuVCG

— Babar Azam (@babarazam258) May 24, 2023
Notably, Babar is the most valuable asset of the Pakistan team and is the captain of the side across formats. He's currently the no. ranked ODI batter of the world and has 5089 runs to his name in the 50-over format, including 18 tons. It is for the same reason that the supporters of him were taken aback after seeing him speeding up a bike, as they cannot afford to play a major tournament without their star batter.
Replying to Babar's video, one of the users wrote: "You are very precious bhai, please don't ride a bike." Meanwhile, the other supporter commented: "No more bikes till the World Cup, please. No risks, skipper."
Here's how fans reacted:
You are very precious bhai, please don't ride a bike 🙏🏼❤️

— Khalid Minhas, MD FACC (@minhaskh) May 24, 2023
No more bikes till the World Cup, please. No risks, skipper 🙏🏼♥️

— Farid Khan (@_FaridKhan) May 24, 2023
We have a World Cup to play in 5 months and Babar is doing such dangerous activities?

Remove him from captaincy please, irresponsible. https://t.co/dAk7WcDj7M

— f (@fas___m) May 24, 2023
Easy there Bobby! Could this need for speed wait till after the ODI World Cup? 😅

— Behram Qazi 🇵🇰 🇨🇦 (@DeafMango) May 24, 2023
Someone please get Bobby OFF that bike. And any other bike!!!!! https://t.co/xQZ87BwS4b

— D (@Le_Sabre54) May 24, 2023
Babar bro use protective gear 🙏
You are precious 😍 https://t.co/vKGxWI9xlk

— Phupho Jodie Foster (@TheArdentSoul) May 24, 2023
ARE YOU CRAZY

THE WORLD CUP IS CLOSE BRO https://t.co/hAL2BxGp8U

— – (@kaguyaareal) May 25, 2023
Stay safe kaptaana
Plz dont ride bike#BabarAzam @babarazam258 https://t.co/Pt8N7kAVC3

— Shanze awan (@shanze744) May 24, 2023
Be Safe Bobby 💛 https://t.co/TYcCykqbif

— Saqib Siddique (@SaqibSi32600454) May 25, 2023
Ride Safe King Babar ☺️🙏

— King Babar Azam Army (@kingbabararmy) May 24, 2023
These heavy bikes are totally different and need more control as compared to the other normal bikes in Pakistan, and also, u need some time to get used to them. Stay safe, captain.

— Ali Usman Baig (@aliusman739) May 25, 2023


[ad_2]

Source link